Scene Manager development timeline
Like many similar tools in the industry, Scene Manager also started as an in-house development back in 2017. The goal of the project was to make the life of a 3D artist easier when using 3ds Max, giving them an intuitive, attractive solution. Since it was a great success internally, we decided to take it a step further and create a version that is available for everyone.
At the beginning of 2018, we started beta testing with a handful of bold users and at the end of October, we released version 1.0 which was the first big milestone.
Version 0.8 - 2018 May
Initial beta version
Flexible & modular UI
14 modules
Batch render
Hdri browser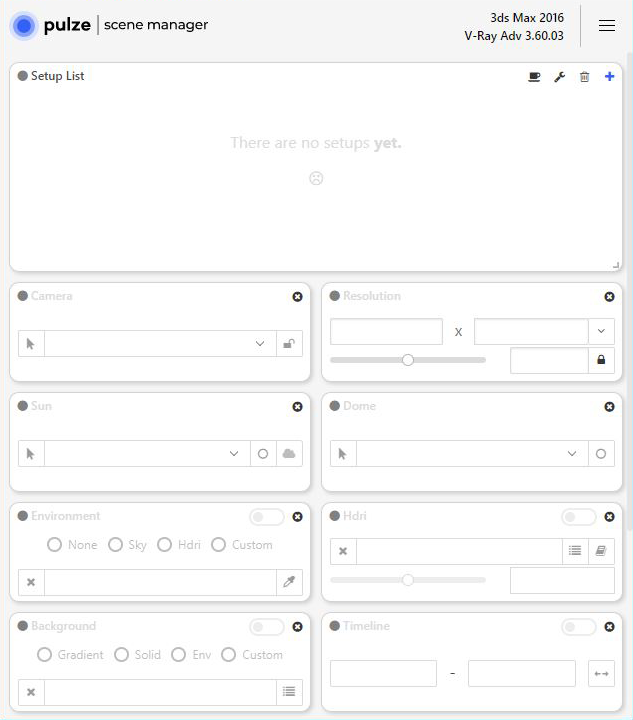 Scene Manager 0.8 User Interface
Version 0.9 - 2018 Aug
Scene setup duplication
Auto creation of setups
Batch update multiple setups
Fetch Hdri from Dome properties
Improved batch rendering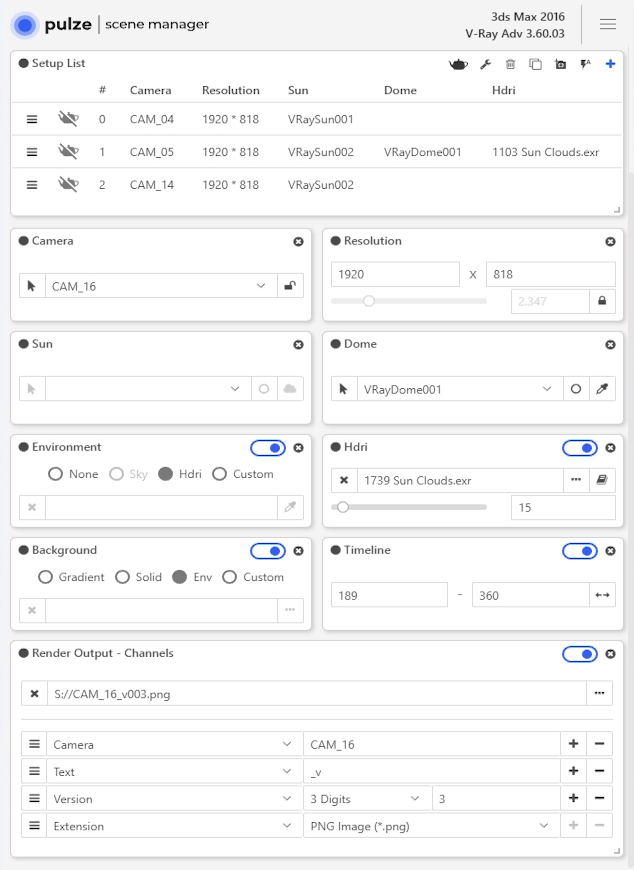 Scene Manager 0.9 User Interface
Version 1.0 - 2018 Oct
First stable release
New installer
Option to reorder setups
Improved sun and dome modules
New viewport settings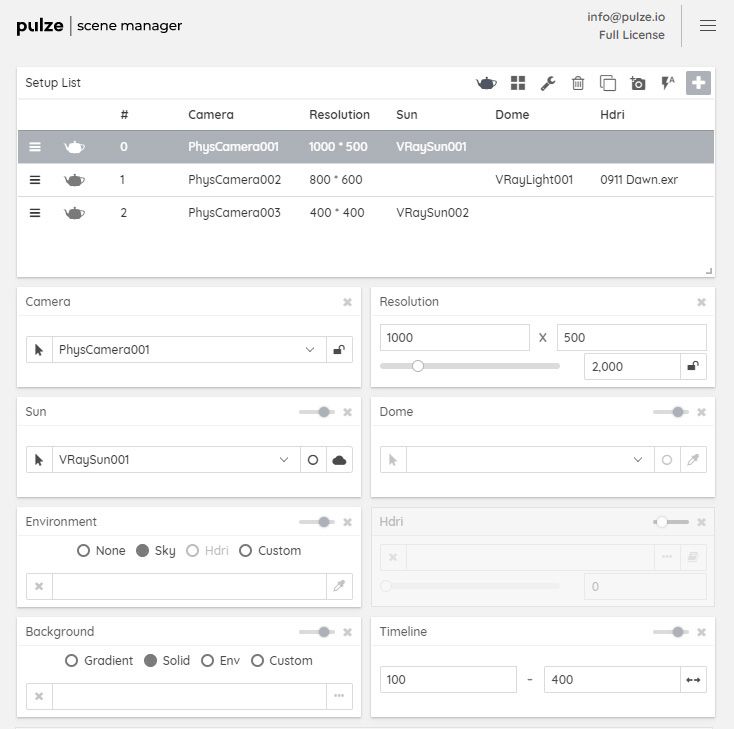 Scene Manager 1.0 User Interface
Thanks to the awesome community, after the public release we received a lot of ideas, reports and requests. We kept improving and published a handful of updates with many improvements and fixes. We also focused on adding support to the latest versions of 3ds Max and the most popular render engines.
Version 1.1 - 2018 Nov
New XRef Scene module
New Scripting module
New Render output rules
Support for Render Settings presets
Import/Export render output presets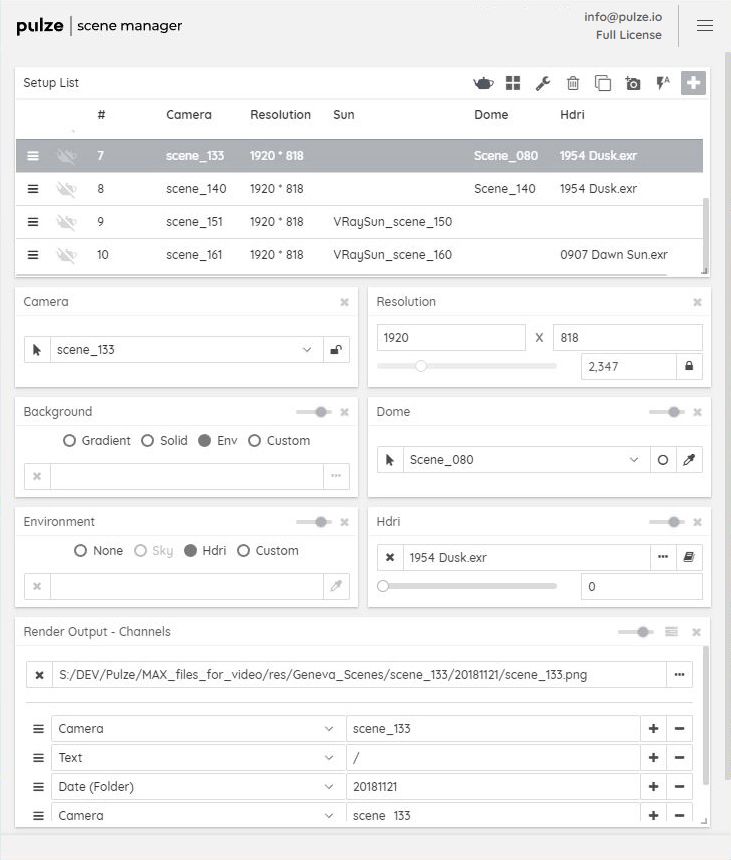 Scene Manager 1.1 User Interface

Scene Manager 1.5 User Interface
Version 1.4 - 2019 Jul
Added support for 3ds Max 2020
New Render Settings Override module
New Atmosphere module
Batch update output paths
Support for Render Manager
Version 1.5 - 2020 May
Support for 3ds Max 2021
Added FStorm, Arnold, Redshift & V-Ray 5
Integrated script editor
Render Elements module
UI improvements & dark theme
Object module
Hdri Haven integration
Version 1.6 - 2020 Jul
New Bake setup feature
Support for color correction maps
Improved Corona Render integration
New V-Ray IPR and Corona IR settings
Output preset import/export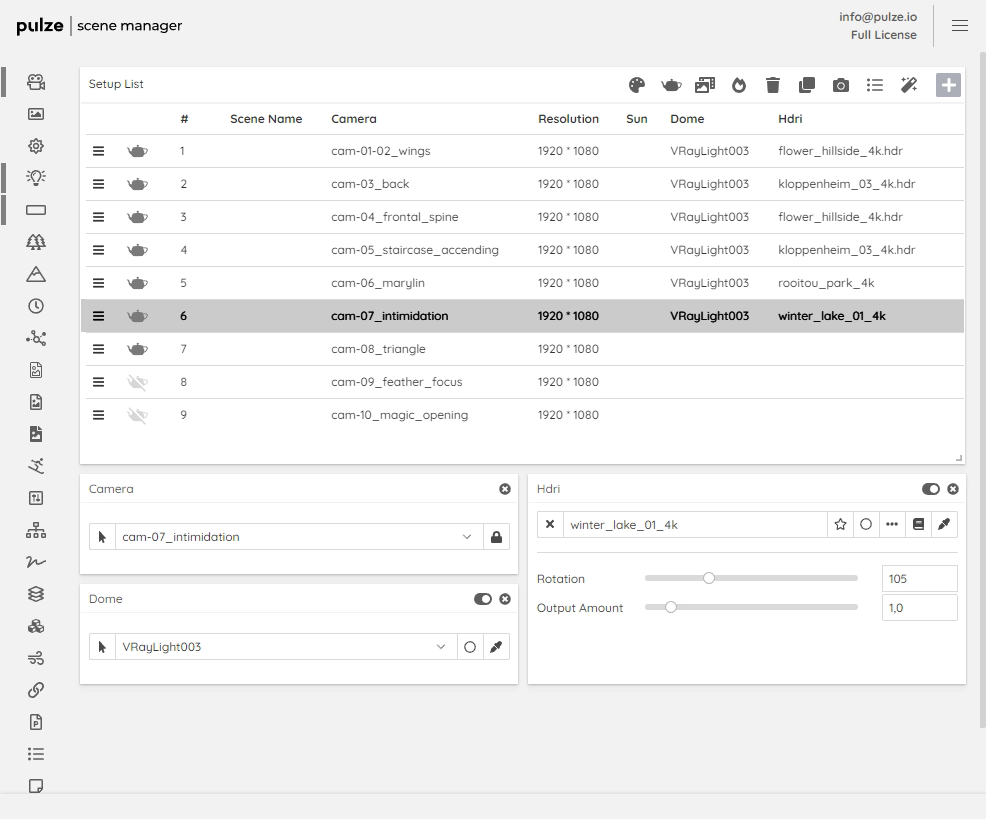 Scene Manager 1.6 User Interface
The next major milestone was version 2.0, which we released at the end of 2020. This was followed by another large update - version 2.1 - in 2021. These improvements took the Scene Manager to the next level by providing artists more control and powerful new features.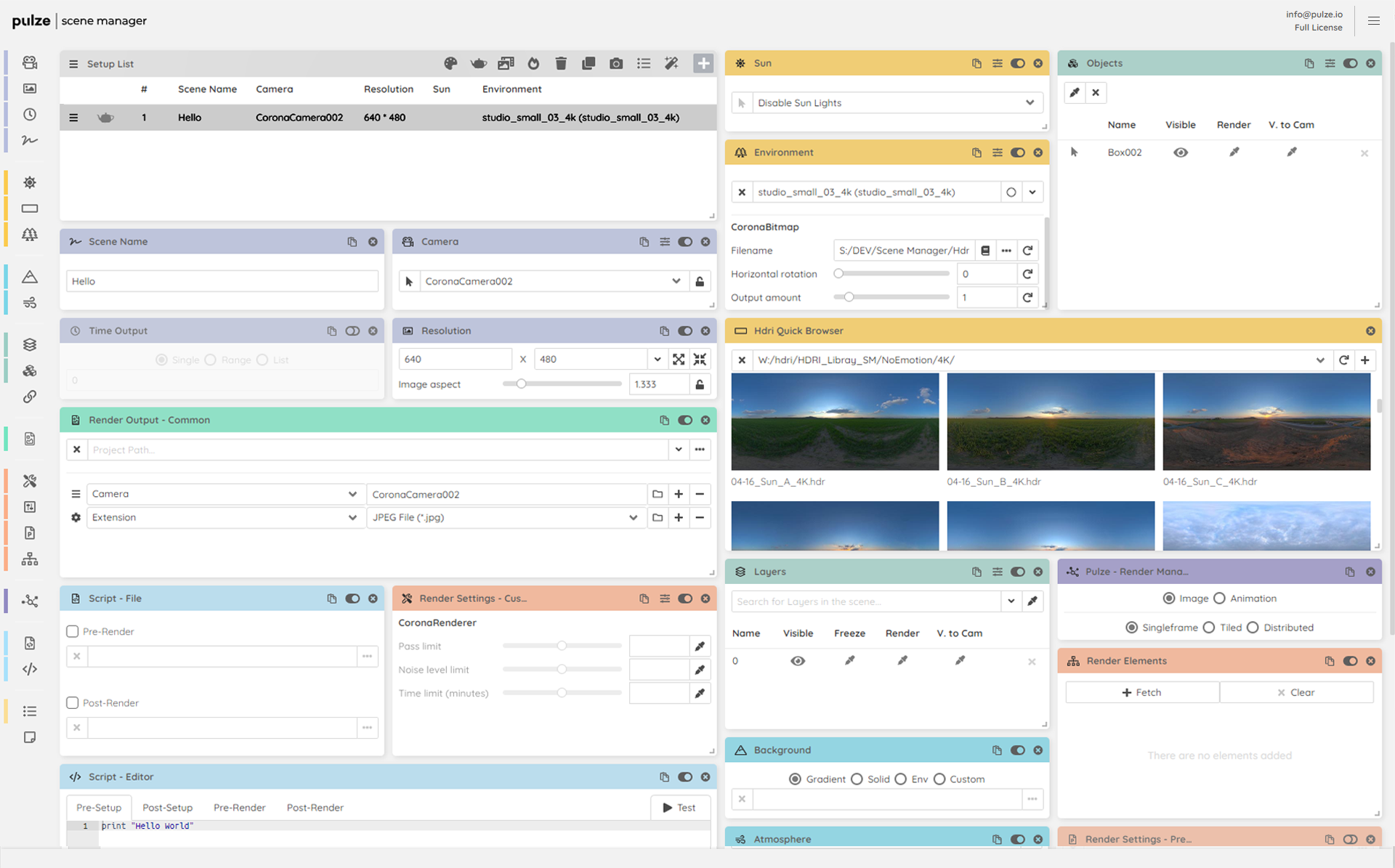 Scene Manager 2.0 User Interface
Version 2.0 - 2020 Dec
250+ custom properties
New Custom Render Settings module
Layer and Object properties
Object transformation per state
Export scene options
Resolution presets
Hdri Quick Browser
New render output presets
Improved Environment module features
Preview states without activating them
Version 2.1 - 2021 Apr
New Daylight System properties
Copy/Paste module settings
Custom export script
Improved Color Correction map support
Improved batch render and batch export
Animated camera transition
Added more options to the output modules
Support for 3ds Max 2022
After a long beta period, in 2022, version 2.2 was introduced. Besides improving the overall workflow and stability, we added support to the latest version of 3ds Max, V-Ray and Corona. We also introduced some highly requested features such as the ability to import and export Scene Manager settings across files.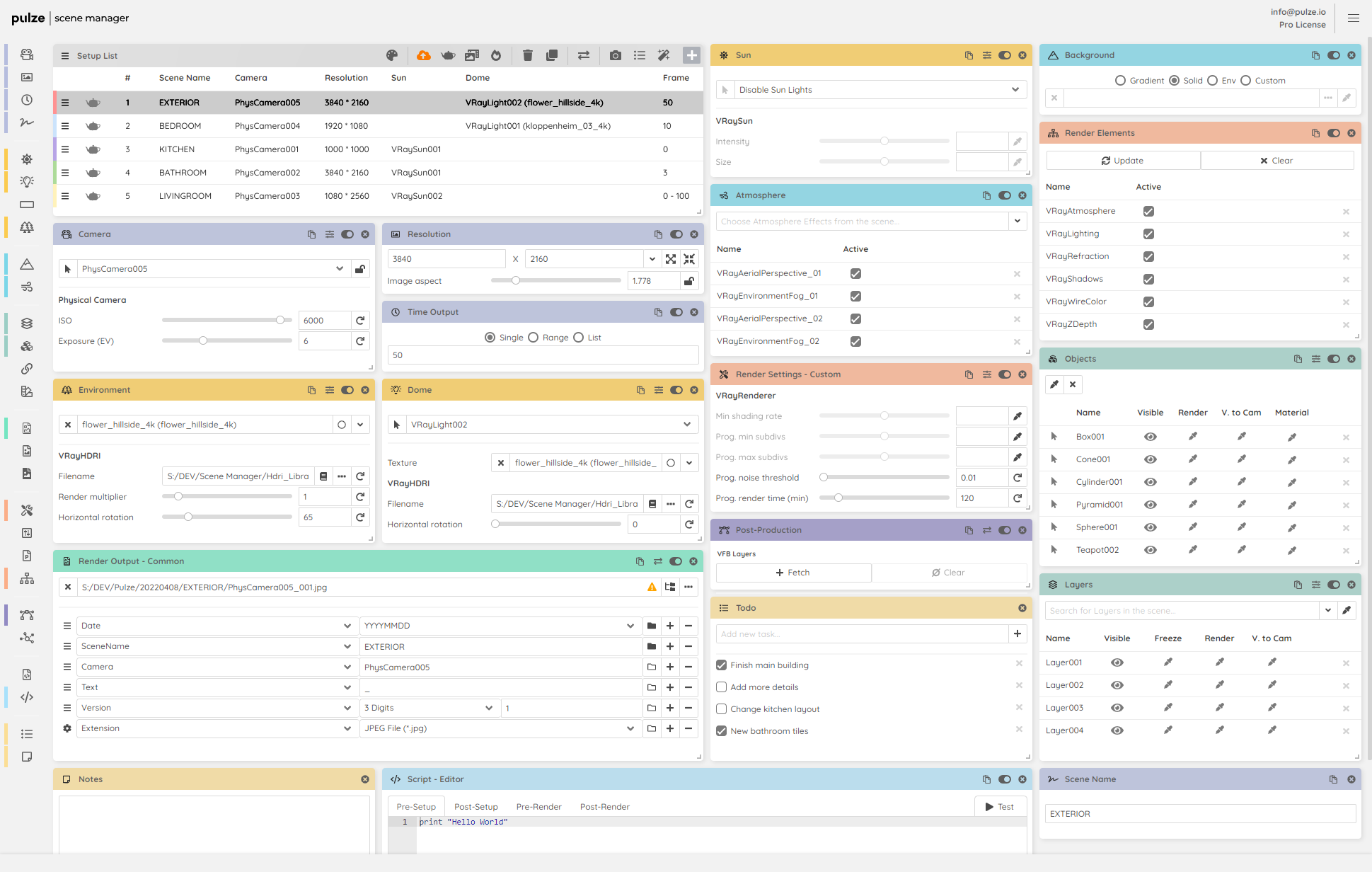 Scene Manager 2.2 User Interface
Version 2.2 - 2022 Apr
Import/Export states with geometry and maps
New Post-production module
Override object materials
New Variation module for product viz
Different output formats per render element
3ds Max 2023 support
Corona 8 and V-Ray 6
If you would like to get your hands on the newest version and start your trial over, this is the perfect time. Click below to claim your 30-day free trial and download the latest version:
Start New Trial
Wanna shape the future of Scene Manager? Please contact us at support@pulze.io! We are looking forward to hearing about your ideas!