Every week we receive a bunch of interesting tickets, from mysterious crashes and bugs to workflow optimization questions. We would like to share some of the more interesting cases so everybody can learn from it.
The mysterious crash and the TIF file
📌 This week we had two Render Manager customers with the same problem. They reached out to our support with a problem that when 3dsMax starts preparing the render, it crashes instantly.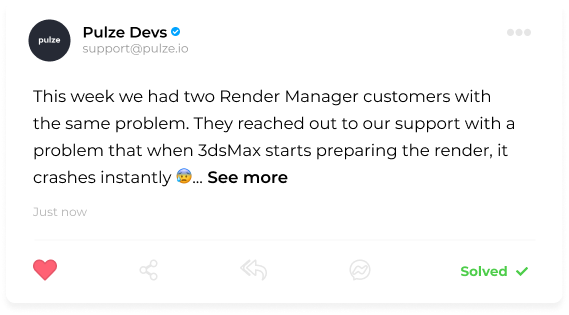 🔍 We received some very useful logs and after reading them through it turned out that a TIF texture with JPEG compression was causing the problem. After some research, we discovered that 3dsMax can't handle this type of TIF file.
✅ The solution is fairly easy. They just needed to open the problematic texture in Photoshop and save it as uncompressed!
If you have any render or workflow related issues don't hesitate to contact us: https://pulze.io/help
---
Error writing to file when using foreign characters
📌 Another really interesting problem for this week. One of our Render Manager users reached out with a problem that 3dsMax is unable to save the output at the end of the render, and the Render Manager reports an "Error writing to file" message.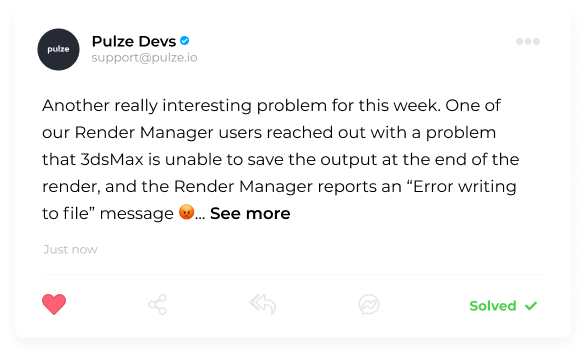 🔍 After asking for some more information and log files, we found out that the cause of the problem is foreign characters, but not just any! For some reason, this issue only happens with foreign capital vowels, like Á,É,Ű etc.
✅ Replacing these characters solved the problem. We strongly suggest not to use any foreign characters in your projects.
If you have any render or workflow-related issues, don't hesitate to contact us: https://pulze.io/help
---
Huge scene with super slow preparation time per frame
📌 One of our Render Manager customers reached out with an interesting problem. They had a massive animation project where the preparation phase (transforming vertices, updating instances, loading textures, etc.) per frame took about 40 minutes. The pure render time itself was pretty fast, about 10 minutes. The question was if we had any tips to lower the render time.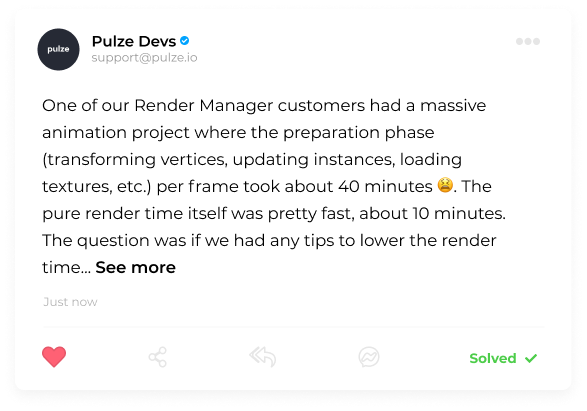 🔍 Since the project was under strict NDA we could not test it ourselves. After a few emails, we realized that our client did absolutely everything to optimize the scene. So the only tip we could give is to turn on the packed tasks feature before submitting the job.
✅ That turned out to be the final solution. The preparation time went down to 20 minutes per frame! The packed tasks option will allow you to define the amount of frames that a node should continuously work on, therefore a lot of the preparations need to be done only once.
If you have any render or workflow related issues don't hesitate to contact us: https://pulze.io/help