Pick from an initial set of the most important render settings for V-Ray, Corona and F-Storm and modify them per setup.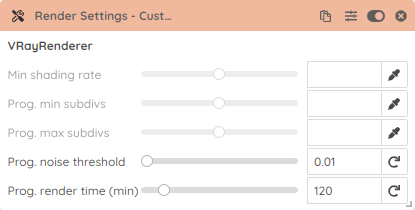 The Render Settings - Override module can take control over your Render Settings and modify almost every property per setup. Once enabled you have to define a default render preset by pressing the Fetch button.After that you can start modifying your settings in the Render Setting Dialog and by pressing Fetch you can "lock" down these changes per setup. You can see how many and which properties are changed.
As an example in case of V-Ray this module can be used to fine tune all kinds of performance/quality settings per setup. In Corona you could control all the post processing and bloom and glare properties per camera, and these settings will be also shown in the Corona VFB.

You can load 3ds Max Render Preset files (*.rps) for each setup. When switching between the setups, Scene Manager will first apply the render settings that you loaded, and after that it will overwrite it with all the other active settings that you have in each module (Resolution, Render Output, Environment, etc..).